Swiss franc soars, stocks tank as euro peg scrapped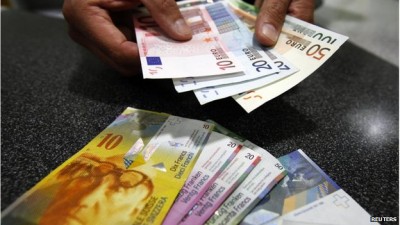 The Swiss National Bank (SNB) stunned markets on Thursday, when it scrapped its three-year-old peg of 1.20 Swiss francs per euro.
In a chaotic few minutes after the central bank's announcement, the Swiss franc soared by around 30 percent in value against the euro.
The franc broke past parity against the euro to trade at 0.805 per euro, before trimming those gains to trade 13 percent higher at 1.040.
The currency also gained 25 percent against the U.S. dollar, before falling back to trade around 12 percent higher at 0.901 francs per dollar.
SNB Chairman Thomas Jordan said the decision to drop the cap was not a "panic reaction," and was a "well thought-out decision." He added that he expected the value of the Swiss franc to ease back to "more sustainable levels".
The move also hit European equity markets hard, with the Swiss benchmark stock index falling by more than 10 percent at one point.
"Pressure had been building on the cap for weeks, but the decision to scrap it so abruptly had markets reeling, with the DAX dropping by 250 points in a matter of minutes," Daniel Sugarman, market strategist at ETX Capital, said in a note.
Trade in Swiss stocks around 8:10 am ET:
'Exceptional overvaluation'
The Swiss central bank introduced the peg in September 2011 in response to investors buying up massive amounts of the Swiss franc as a safer foreign exchange alternative to the euro or the dollar.
In a statement Thursday, the SNB said the franc was now out of the period of "exceptional overvaluation" during which the minimum exchange rate had been introduced.
"The euro has depreciated considerably against the US dollar and this, in turn, has caused the Swiss franc to weaken against the U.S. dollar. In these circumstances, the SNB concluded that enforcing and maintaining the minimum exchange rate for the Swiss franc against the euro is no longer justified," the statement said.
"While the Swiss franc is still high, the overvaluation has decreased as a whole since the introduction of the minimum exchange rate."
The central bank also cut its main interest rate to -0.75 percent—a move further into negative territory.
"The SNB is lowering interest rates significantly to ensure that the discontinuation of the minimum exchange rate does not lead to an inappropriate tightening of monetary conditions," it added.