Deutsche Bank Profit Beats Estimates on Trading Revenue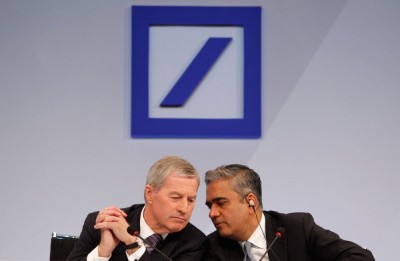 Deutsche Bank AG (DBK), Europe's largest investment bank, said first-quarter profit fell less than expected as trading revenue beat analysts' estimates. The shares rose the most in three months.
Net income dropped 34 percent to 1.08 billion euros ($1.5 billion) in the three months through March from a year earlier, the Frankfurt-based company said in a statement on its website today. That compared with the 1.01 billion-euro average of 10 analyst estimates compiled by Bloomberg.
Revenue from trading fixed income and currencies decreased 10 percent to 2.43 billion euros, exceeding the 2.12 billion euros average of nine analysts' estimates. The majority of the commodities trading business is no longer included in the calculation, Deutsche Bank said.
"The results were quite positive," Steven Gould, an analyst at Natixis Securities in Paris, said by telephone. "The capital situation is less of a worry than people were anticipating."
Deutsche Bank is among global investment banks contending with a slowdown in trading revenue as clients shy away from investing amid uncertainty over monetary policy and a geopolitical crisis with Russia over Ukraine. It has faced calls from investors to raise capital by selling shares after earnings were squeezed from shrinking its balance sheet to meet stricter regulatory rules.
Photographer: Ralph Orlowski/Bloomberg
Juergen Fitschen, left, and Anshu Jain, co-chief executive officers of Deutsche Bank..
Shares Surge
Deutsche Bank's shares rose as much as 3.3 percent in Frankfurt, the biggest gain since Jan. 13. They climbed 2.2 percent to 32.12 euros at 9:15 a.m., narrowing a decline this year to 7.5 percent. The 43-member Bloomberg Europe Banks & Financial Services Index rose 0.9 percent today.
The company said after markets closed yesterday that it will sell at least 1.5 billion euros in subordinated debt to help raise capital levels and meet stricter limits on leverage. Deutsche Bank won't rule out further measures on capital should it be in the bank's interests, he told analysts on a conference call.
Losses in winding down non-core assets not deemed central to Deutsche Bank's business more than doubled to 532 million euros in the first quarter from 258 million euros a year earlier. Analysts had expected a loss of 474 million euros.
Capital Strength
The company's common equity Tier 1 capital ratio under Basel III rules, a key measure of financial strength, fell to 9.5 percent from 9.7 percent at the end of December, it said in the statement.
The bank finished last year holding less capital than all but two of the nine biggest European and U.S. investment banks, data compiled by Bloomberg Industries show. JPMorgan Chase & Co. and Barclays Plc (BARC) had lower levels.
"The investment bank hasn't done so well with revenue under pressure as the bank sheds assets and clients hold off trades," Dirk Becker, an analyst with Kepler Cheuvreux, who recommends investors buy the shares, said by phone from Frankfurt. "All eyes are on Deutsche Bank's capital levels. The exciting question is how far new rules will cut them and what the effect of shedding assets has been."
Shedding Assets
Co-Chief Executive Officers Anshu Jain and Juergen Fitschen are shrinking assets to build capital levels after they raised almost 3 billion euros by selling shares at 32.90 euros apiece in April last year. They're aiming to cut Deutsche Bank's balance sheet by 250 billion euros, or 16 percent, from last June through 2015. Deutsche Bank is willing to lose revenue in some businesses because of the plan, Jain said in January.
The five biggest U.S. investment banks saw their combined revenue from trading fixed income, commodities and currencies fall 13 percent to $15 billion in the first three months from the same period in 2013, data compiled by Bloomberg Industries show. Deutsche Bank relied on that business for 22 percent of its income last year, filings show.
Jain and Fitschen are considering selling about 5 billion euros of shares to investors to increase capital, Germany's Handelsblatt newspaper reported last week, citing unidentified people in the finance industry. Deutsche Bank wants to catch up with the capital ratios of its competitors while complying with new regulations, Handelsblatt said.
Legal Costs
Deutsche Bank needs to tap shareholders for about 10 billion euros, analysts at Mediobanca SpA (MB) said in an e-mailed report from London last week. That would allow the bank to avoid losing debt-trading market share while meeting new standards for valuing complex assets and cover regulatory fines and legal settlements, they said.
The company's legal costs, which totaled 3 billion euros last year, are hampering efforts to build capital. Deutsche Bank has yet to resolve probes into its role in industry-wide attempts to manipulate benchmark interest rates and currency markets and faces lawsuits which allege the company didn't make adequate disclosure of U.S. mortgage-backed securities.
Deutsche Bank says it is cooperating with investigations of the alleged manipulation attempts.
The European Banking Authority's proposed changes to how banks value trading book assets at the end of March could lower capital levels by 1.5 billion euros to 2 billion euros, the company said today.
That's less than the 2.2 billion-euro reduction by the second or third quarter anticipated by Kian Abouhossein, an analyst for JPMorgan. He cut his recommendation on the stock to neutral from overweight in an e-mailed report from London this month.